Well so far the new year is starting off with some eh pattern offerings. Nothing earth shaking, gotta have it from what I have seen so far.
Hot Patterns has two new ones that are probably 2 of the best that I have seen so far.
First up is the
Wong-Singh-Jones Kimono Wrap Dress
:
An exotic twist on the classic wrap dress, this deliciously flattering style is designed for drapey, fluid knits like silk(y) jersey, rayon or lightweight cotton knits.
Fitted wrap Dress has a shoulder-princess seamed bodice with V-neck front wrap and an optional button fastening, neatly hidden by the waist ties. Dress has 3/4 length sleeves and a below-knee length quarter-circle wrap skirt, and features contrast neckband and wide, extra-long waist ties. This great Dress is sure to become a staple of your HotPatterns wardrobe-it's your go-to style for dressy daywear, or a low-key evening outfit. Try it with knee-high boots, a slouchy bag and a pashmina for a daytime diva look, or add your favorite heels and an exotic clutch for an easy after-5 ensemble.
This I really like, but I am not ready to spend $15.95 to buy the pattern yet. I would like to see it made up first.
The other Hot Patterns offering is the
Classix Nouveau Fit To Be Tied Shirt
:
You're going to adore this stunningly stylish Shirt, designed for classic shirting fabrics like crisp linen, cotton poplin, lawn or silk twill, but just as glorious in crisp taffeta, single-ply Thai silk, silk dupioni or chambray denim.
Fitted Shirt has a shaped hem, slightly cut-in armholes, shoulder yoke, front button band and shirt collar with stand. Shirt back is pleated onto the yoke, and features shoulder princess seams. Shirt front is gathered onto the button band and has an optional tie. Long sleeves have an inverted pleat at the sleeve head, finishing with French cuffs-perfect for cufflinks!
How many ways to wear this fabulous shirt ? Team it with a sober Jacket and Pants or Skirt for a beautiful office look; wear it with your favorite evening Pants; or try it to dress up some artfully distressed vintage jeans
Another nice looking pattern but this looks very much like a blouse that was in a Burda WOF issue last fall. So I don't think that I will be buying this one either.
Now on to the Big 4. First up McCalls:
These are not really my favorite pants, but they reflect the rising waitline that seems to be the trend for Spring. I personally have a short waist & rise so they do nothing for me, but someone taller might like them.
McCall's 5592
- MISSES' PANTS IN TWO LENGTHS: Slightly flared pants in two lengths has contour waistband with carriers, button and buttonhole closure or hook and eye closure, fly closure, side front pockets and back patch pockets, yoke back and stitched hems; pants A, B have right inside patch pocket.
McCall's 5588
- MISSES' TOPS AND TUNIC: Pullover, loose fitting top or tunic has contrast yoke, gathered front and back with sleeve variations; tops A, C, D have stitched hems; tunic B has contrast hem band.
I like the neckline on view C. I think that it would be a really cute work top made from knit & by adding some ¾ sleeves with a gathered cuff. I am not sure how "Crafty" this pattern is but I would pick it put at a $.99 sale.
McCall's 5586
- MISSES' TOPS: Loose fitting tops have self-faced yoke, gathered front and purchased bias tape finished armhole; tops A, B have gathered back; purchased metallic, plastic or acrylic jewel stones, flat sequins or beads to creatively embellish yokes
This jacket reminds me a little of this Gap jacket that I saw in the store the other day.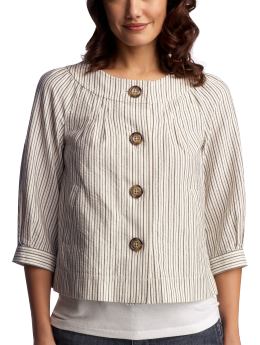 Now I could buy the Gap jacket at 1/2 off as I work in the Corp office but I have the perfect striped fabric to make it.....So I might have to make it instead of taking the easy way.
McCall's 5593
- MISSES' LINED JACKETS: Jackets A, B, C have raglan sleeve, gathered front and back into self-faced yoke, topstitching detail, optional covered buttons, collar and sleeve variations; jacket A has two-piece gathered sleeves; jacket B has two-piece gathered sleeves with self-cuffs and concealed pockets; jacket C has wide sleeves.
McCall's 5594
- MISSES' LINED JACKETS: Jackets A, B, C have front and back darts, gathered lower section, collar and sleeve variations; jacket A has gathered sleeve with sleeveband; jacket B has three-quarter length sleeve with gathered ruffle; jacket C has long sleeves.
First off I am not a fan of leggings for me. I got to experience them in all their glory the first time around, along with peg rolled jeans & layers of slouch sock. Second off um this is a little low cut don't cha think, Miss Duff????
McCall's 5575
- MISSES' TUNIC AND DRESS: Fitted across bust, raised waistline bodice with band at neck edge and sleeves, pleated skirt front; tunic A has hem band; dress B is above mid-knee length.
On to Vogue. First let me say that there are many Vogue patterns that I will look at & say "Oh I like that" but me life style doesn't require gowns or dress suites, so I don't often include them in my picks.
I really like the details of these pants, like the bound back pockets. I can totally seeing making these for work. Maybe in linen for summer?
Vogue #8479:
MISSES'/MISSES' PETITE PANTS: Unlined, semi-fitted, slightly flared pants have fly zipper, front darts, yoke back, bound pockets and waistline, carriers and cuffed hem.
Another wrap/crossover top but a little differnt with the gathers. Nothing earth shattering but it seems you can't have too many wrap top patterns.
Vogue #8477:
MISSES' TOP: Semi-fitted, pullover tops have mock wrap fronts and banded neckline. A, B: short, banded sleeves. B: contrast neck and sleeve bands. C: three-quarter length sleeves.