Happy Thanksgiving all!!!!
I hope that everyone has a fabulous turkey, carb, pie filled day! We are going to some friend's house this afternoon. Then it is 3 days of sewing craziness here at SLT. I have 12 days before we leave for Vegas & the SASS Convention.
So here is what is on the sewing list before then…..
A couple of these shirts for John, and a vest to match my reception dress(See below).
Finishing up this dress…..
Working on getting a better fit with some other dresses that I have (now that I have a corset).
Then this is the big one! I am making my version of this dress: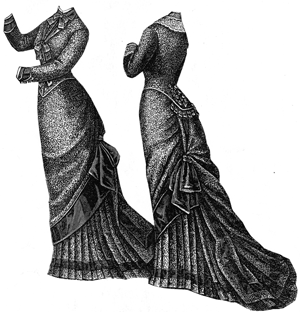 From this fabric & solid brown "satin" with wide pink ribbon....
Then if there is time finishing up this:
That will become one of these:
from the
Laughing Moon Split Skirt pattern.
Then I have to share one last thing. I get to wear this fabulous dress thanks to my too sweet friend Gina. Isn't it gorgeous!??
Hope that everyone has a great day & if you are crazy enough to go shopping tomorrow, be safe & may the deal Gods bless you!