It's snowing like the Dickens out!*
Our weather dude informed us this morning that this weekend will be the coldest weather we have had in a decade & that we should expect another 6-12" of lake effect snow. There was even talk of blizzard like conditions & having emergency provisions on hand. Really? Good lord did we move into
Little House on the Prairie
* or something? I am used to having hurricane supplies after spending 23 years growing up in south Florida but I guess it never really occurred to me that I would need to do the same here in MI. Huh. Guess I will be hitting the store on the way home for some more water & stuffs.
So with that lovely forecast for the weekend my plan is to stay home & sew. I will be working on that dress for the wedding to get the darn thing finished already so I can move on to something else.
So with that "something else" still undefined I would like to share what the pattern companies are serving up for their Spring 2007 collections. I have to say on a whole I was very unimpressed. I was just asking to my mom last night why can't these US pattern companies get on the ball & offer styles that are not a) completely out of date or b) just another variation of the 10 other variations of the same thing, again! Geez!
With that said my favorite so far are the new
Simplicity
&
New Look
patterns. Not that they haven't offered up some serious Fug as well.
I just thought that a few of theirs were either different or close enough to a RTW ** item that I saw.
Here are my observations ***.
I liked this New Look
dress
&
this one
too, especially the halter top style.
These other New Look patterns might be worth a closer look:
Tunic Top – 6677
&
Blouses – 6678
Now on to the new
Simplicity patterns
.
I think that this top is probably my favorite out of all the new patterns.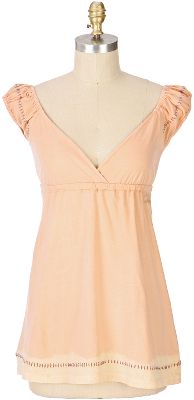 That is because it is very similar to these Anthropology tops.
There are two new Built By Wedny patterns, One for a
dress/mini dress/top
& one for
pants/capris/shorts
. I am not sure how I feel about the dress/top yet, but I will probably get the pants patteern.
There is a
Sew Stylish Collection
(#3867) which I think must be linked to the new magazine that Threads is putting out, Sew Stylish. (go figure). That top is pretty cute.
Another
Tunic
pattern, but this one I think is a little different & could be changed up to copy some RTW styles, but I could be wrong.
I mostly likely will not buy these dresses but I thought they were kind of fun.
Retro 60's
&
this one.
Butterick hasn't put out anything new yet.
McCalls spring collection
is pretty much hideous. The only one that I even looked at twice was
this
for the sewing/craft room, but I think that I could make those without buying the pattern.
So lets love on to
Vogue
. Vogue is usually too stuffy or fluffy for my tastes or life style. I like to look at them but rarely buy any. I did like these two & might think about buying them if I happen to catch them on sale.
It's a shame that the jacket & pants pattern doesn't also include the pattern for the top they show with tht outfit. It's pretty cute.
~~~~~~~~~~~~~~~~~~~~~~~~~~~~~~~~~~~~~~~~~~~~~~~~~~~~~~~~~~~~~~~~~~~~~~~~~~~~~~~~~~~~~
* I am a huge fan of
Laura Ingalls Wilder's work
. If you all you know about her is from the TV show I highly recommend reading her books based on her real life.
**Come on don't you just love old time expressions like that? Ever wondered who these Dickens were & what they did to have such a saying? Hmmmmmm.
** *RTW - Ready to wear
*** *to be taken with a grain of salt for sure.